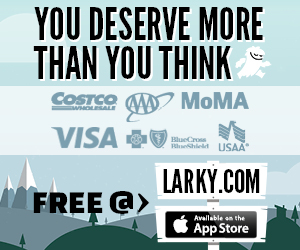 Larky gives you all the perks and discounts you deserve from your memberships and loyalty programs. It's free, it's easy, and you don't even need to enter your account or member numbers to start saving.
Are you a member of AAA, AARP, USAA, Blue Cross Blue Shield, American Express, Costco, a professional or alumni association, a social or community group, or a union? How about a museum, a fitness club, or a grocery store? Do you have a credit card?
If you're a member of any of these or thousands of other organizations, you're entitled to hundreds of little-known (but very valuable) perks and discounts. But you're probably not getting any of them. Larky is here to change that, effortlessly.
Larky gives you a one-stop perks dashboard on web and mobile that shows you all your perks and discounts across all of your memberships.
The Larky iPhone app sends you free just-in-time reminders when you're near a discount. Walk into a store where you have a discount, and Larky let's you know.