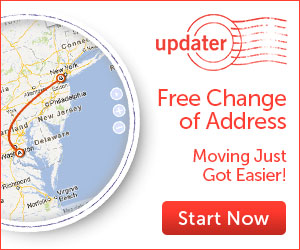 If you've ever moved and tried to
change your address online
, many places want a credit card to verify your identity. Well, now you can update your address for FREE online with NO credit card required!
USPSUpdater.com
allows you to change your address online. It is short, easy and FREE!
Here's how to use USPS Updater:
Fill in your current address, new address and date of move
Check out the home services offers they have. These are basically the same offers that the USPS sends you in the little packet you get when you move.
Check out their premium service. You do NOT have to upgrade if you do not want to and they will STILL change your address for you even if you don't. Scroll to the bottom to continue to the next page if you're not upgrading.
Finish your update and submit your info
All done! Now wasn't that easy?