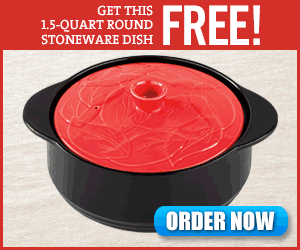 FREE Stoneware Dish -- $79.95 Value!
· Simmer on the stove top, bake in the oven, serve on the tabletop, freeze a meal for later use, microwave leftovers!
· Streamline meal prep and simplify clean up (and your life)!
· Toss those old plastic storage containers!
· BONUS GIFT – Mortar & Pestle
· No obligation to buy anything else!
· Pay just $9.95 shipping and handling